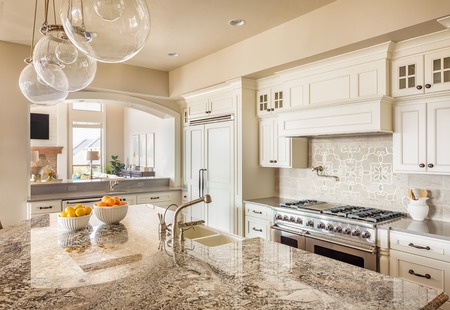 A new year is here, and with it comes a wonderful opportunity for homeowners to update their space, bringing in fresh perspective and modern style. As always, the start of a new year is also the time that interior designers and furniture experts share their predictions for popular home design trends.
Here are just a few of the new trends that we at Elegant Living Decorating expect to see homeowners gravitating to during our time together in 2017.
Greenery
Described by Pantone as "refreshing and revitalizing," the 2017 color of the year is a bright, cheery hue titled Greenery. A color that brings a fresh, natural feeling into the home, Greenery is nature's neutral and looks beautiful with fresh whites and warm wood.
We wouldn't necessarily recommend painting an entire room in this vibrant hue, but we absolutely love it as an accent color. Whether you are looking for a little something to brighten up your kitchen back-splash or are interested in adding a pop of color to your living room with new throw pillows and accessories, Greenery is the color to use!
Elegant Kitchens
Looking to remodel your kitchen this year? Experts predict that the industrial look has seen its peak. Instead, homeowners are looking to make their kitchens warm and elegant. Think quartz and marble counter tops, matte metal appliances and fresh subway tile.
Mixed Patterns & Florals
Recently we have seen a resurgence of floral printed furniture. But these aren't your grandma's florals we're talking about. Mixed patterns, including bright and elegant floral prints are becoming incredibly popular, allowing homeowners to have a bit of fun incorporating different colors, textures and patterns into your space.
With so many new trends to take into consideration, it can be difficult to decide what will work best in your space – and how you can mix and match trends to bring out your own personal style. Whether you are flipping houses or renovating your own space in the Niagara Falls, Ontario area, color consultations and interior decorating services can help!
To learn more about our package and create a comfortable, trendy space you love, please contact Elegant Living Decorating at 289-668-7018.