This Father's Day, r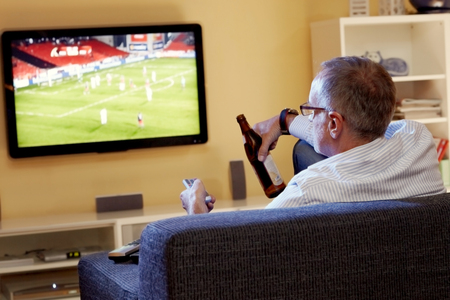 emember to show your dad just how important he is in your life. Whether he is an active man or just likes to relax, we have design techniques that will make that special man feel extra appreciated this year.
If you are looking for a creative gift that he will use, consider gifting him a space to call a man cave. This exclusive space will allow him to relax and unwind in a designated area for him. If gifting a man cave to your father, husband, grandfather, sweetheart is on your to do list here are some helpful tips to get started.
Choose the space: A mancave doesn't necessarily have to be a huge room or basement (although it may be most the favorable spot for peace and control of the remote). It can be wherever works best, perhaps the garage, spare bedroom, shed, or attic, all spaces that can be transformed to his relaxing oasis.
Redesigning the space: Start by removing any clutter, items that don't belong or pertain to this space and ensure the room is thoroughly clean.
New Paint is a fairly inexpensive way to quickly transform a room. Colours palettes of green try BM HC-117 Hancock green, Palladian blue HC-144 or SW -7029 Agreeable Grey.
Accessorize– Once you have the room painted, now is the time to add in some decor. This is the perfect time to incorporate HIS  interests and hobbies. The first must-have is a BIG TV, and all the accessories that go with it. If he is a "gamer", set up his favourite system or does he prefer a top of the line surround sound. The next must-have is a Big comfy sofa or arm chair. Large coffee table (definitely big enough to hold a large pizza box) and somewhere to put his feet up. Add a bar fridge for quick beverage access and you have the beginnings of a man cave.
Personal items– When creating a space specifically for your HIM, you want to ensure that it is personalized. If he has any collections, trophies, diplomas, sports memorabilia or enjoys hold'em poker, add this to help tie the space together.
These tips should inspire you to get started. For many more ideas to add into a man cave contact Elegant Living Decorating. A professional interior decorating and home staging service in Niagara Falls and surrounding areas. Elegant Living Decorating is dedicated to creating functional and stylish spaces you will love.
How will you show your dad you love him this year? Do you think he will appreciate a man cave?
#hireadecorator #elegantlivingdecorating
#niagararastaging #hireastager #niagarafallsdecorating