Furniture shopping is a journey. Through this journey, you will discover many things about your personal style, the design of your home and overall aesthetic. If you are researching "how to find the perfect sofa" chances are you won't be settling for any run-of-the-mill couch. You are looking for The One. Before you head out to your local furniture store or browse several pages on Pinterest, you must first figure out which style is right for your personal aesthetic and functional in your home.
Here are examples of the most popular sofa designs and how they function in a home:
Lawson Sofa
A casual design, this style sofa can work in a variety of home designs. A traditional Lawson sofa is low set, with slightly rolled arms and a straight back. It typically has attached back pillows. While this couch may not be the highlight of the room, it is a great accent piece and can be enhanced with other décor items like decorative pillows and throw blankets.
Loveseat
While there is no specific design for loveseats, this term simply means a sofa made for two. Many larger sofas have a loveseat version. A loveseat is a great sofa for smaller apartments. If you find a sofa that is too large for your home, a loveseat may be the best option. Contrarily, if you have a larger home you may get a large sofa and a matching loveseat.
Sectional Sofa
This multi-piece sofa comes in many different sizes and pieces that connect to create a much larger couch. Pieces can be added or taken away to suit your size needs. Sectionals are ideal for large homes in common areas like the ling room/ entertainment room. Sectionals are usually arranged in an L or U shape.
Tuxedo Sofa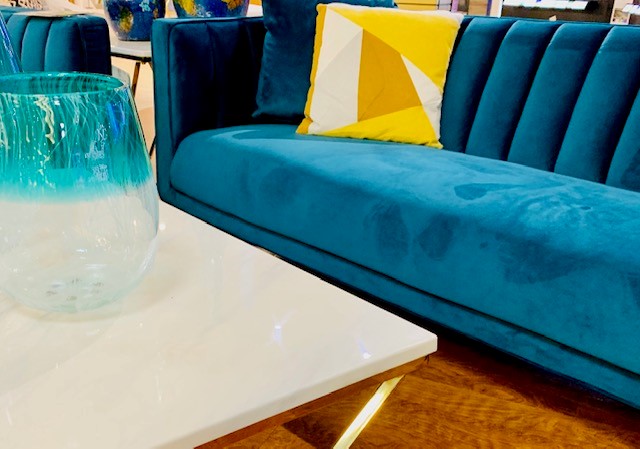 This clean-lined sofa is an eye-catching elegant piece of furniture. The arms on a tuxedo sofa are the same height as the back which creates a smooth aesthetically pleasing line. The back of the seat is tufted which gives it that classic tuxedo style appearance. This sophisticated sofa isn't your typical family-friendly couch so you may want it in a room that doesn't get a lot of foot traffic- like a den, home office, or sitting room. Bolster pillows are the ideal accessory to accentuate this stylish sofa.
Fabric Selection
When shopping for furniture it is also important to be mindful of other factors like children and pets. You want a durable fabric that can stand the test of time. Leather is a great fabric for people with pets, children, or a clumsy drink hand. It is easy to clean leather and extremely durable, so it won't be easily punctured by your furry companion's paws.
Choosing a Colour
The colour sofa you choose will help determine the style and theme of the room. One of the most popular colours for sofas is beige. Beige is a great colour for a sofa because it is neutral and can be subdued or elevated with other design elements. Other neutral colours like gray and brown are also extremely common. If you are looking for a bold piece that stands out in the room, opt for a brighter colour like blood orange, scarlet, or green. If you choose a bright colour it is easy to build off of that with other accent pieces that will really make your sofa pop!
Elegant Living Decorating is dedicated to creating beautiful spaces. As one of the top 3 Interior Designers in Niagara Falls, we can curate sophisticated and stylish pieces for your home. Finding the right sofa is a small component in the grand scheme of designing a room. Allow Elegant Living Decorating to take your home décor to the next level! Contact us today for a consultation on your next design project!
Which style sofa would look best in your home?
#hireadecorator #elegantlivingdecorating #niagararastaging #hireastager #niagarafallsdecorating
#selectasofa           #interiordesignniagara            #elegantlivingstaging