Staging Consultation
A walk through, room by room, providing you with the necessary information to stage your own home and create a great first impression. You will be shown and provided recommendations on all the necessary things that have to be completed.  Including, useful tips, simple changes, de-cluttering advice, curb appeal and patio areas all specific to your property. This service is best suited for occupied properties and "Do it Yourself" homeowners. 90 minute consultation meeting. "Walk and Talk" Service. Completed emailed reports for an additional charge within 24 hrs.
Elegant Staging Package
This is the full service package. Showcasing and staging involves the re-arranging, re-purposing and the possibly removal of unnecessary furniture and outdated accessories. Staging with the appropriate furnishing around the room's focal points or architectural details will provide the WOW! first impression. Optimizing a clutter free traffic flow is another staging detail, we'll ensure. The addition of rental furnishings and accessories will be used if the project requires it.
Stylizing, creating sensory appeal, sight, sound, smells and final decor touches, are completed to appeal to your potential buyer.  Elegant Living will target prospective buyers demographics and create the look that sells!  This package option allows homeowners budget flexibility and staging the rooms with the biggest impact and return on investment. Your home will be open house ready! (All rentals on a monthly basis in addition to staging fees)
Been on the Market and Not Selling?
It's never too late for Staging. The best results from staging is preparing the home prior to showing it. Studies have shown that homes that linger on the market have their sales accelerated considerably after staging.  If your home has been on the market for such a length of time that all interest seems to have fallen away, a real estate professional may advise you to take it off the market for a month or so and then re-list after some staging services have enhanced it. When it comes back on the market, it will show up as a new listing. Your property will truly be a new and exciting product and the new marketing materials can make the most of that fact. Consultations Required.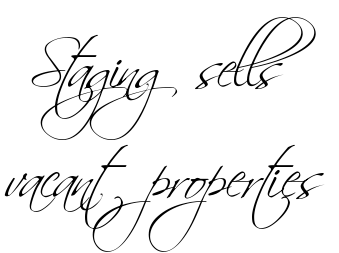 Vacant New Homes. They don't usually require updates or repairs. Pricing will vary on the scope of work, size of property and rental requirements.
Previously Occupied, Vacant Homes. May require some updates, new paint and rentals. Pricing will vary on the scope of work and size of property.
Investors Staging Packages.  Elegant Staging will target prospective buyers and create the look that sells!   Various techniques in creating vignettes and focal points that suggest a purpose and an ambiance, while keeping the expenses on budget.  Meeting  your marketing goals, identifying buyer demographics and maximizing your return on investment.  Services best suited for Investors, Property Managers, Rental Landlords and House Flippers.
Estimates/bids can be provided. Call for Quotes!
Open House Pampering.  This is the final touches service.  For those who may have done their own staging and now want to ensure perfection on open house day.  We provide the last minute details…Elegant staging and stylizing to create sensory appeal: sight, sound, smells and final decor touches are completed to appeal to your potential buyer. Now your home is open House Ready!
Additional Services
1 Hour Open House Pampering Service
Decor Finishes and Optional Selections with Homebuilders
Interior Decor and Re-design services new projects
Interior and exterior painting*
Photography*
Professional cleaning services*
De-cluttering and Re-Organizing
Selection and installation of lighting*
A wide selection of flooring options*
Power washing* / Window washing*
Delivery and pick up of furnishings*
Skilled trade professionals for additional work*
Move Management  Services*
*Services provided by our referral partners.