This time of year not only brings the warm smell of hot cocoa and the long-awaited Christmas spirit, but also the hustle and bustle of holiday shopping, planning, cooking and usually a hefty dose of stress.
However, there's no need to fear—our holiday decorating experts are here!

We're at your service, bringing you creative ways to officially set up Christmas in your home without the hassle.
Decorate everywhere!
We don't know about you, but we don't believe the Christmas spirit should be restricted to just one room. Let the season take over your entire house. Even a few accents here and there can take a space from the norm, to cozy and warm!
Jolly up the entryway
As soon as your guests walk into your home, they should be greeted by a sprig of holiday cheer. Whether it's pinecones and some evergreen clippings, or a display of your winter hats and blankets, the Christmas feeling should start as soon as you walk in.
Use presents to bring the holiday presence

Wrapping empty boxes will not only help you practice your gift wrapping, but will also add endearing accents to your staircase, fireplace, and more.
Choose a Christmas theme
We have seen it all; a gold, shimmery look; a vintage feel with antique décor; even designs that seem like the winter flurries have entered the home, making it sparkle.
Decide on the type of style you want for your décor, that goes beyond the red, green and gold colours, and you'll truly produce a unique holiday scene in your home.
Tackling your Christmas tree décor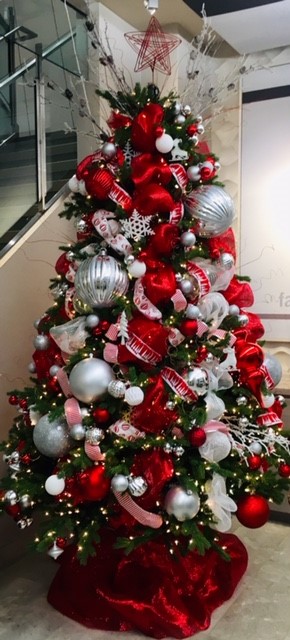 The main focal point in your holiday setup is mostly like that beautiful evergreen tree. Real or fake—it doesn't matter to us! What does matter is how you choose to dress it up.
Your tree can be tricky, trying to create this vision of lights, colours, garland, ornaments and more.
That's why we suggest to keep it simple, or better yet, call in the holiday decorating professionals.
With a keen eye for elegance and creating a holiday vision in your home, professional decorators can transform your home into a winter wonderland that will have you calling your in-laws to ensure that the holidays are spent at your house this year!
Whether it's full décor, tree décor, or just bringing the little touches of Christmas into your home, the holiday decorating services from Elegant Living Decorating will be able to make your home a sight to see this season.
Give us a call at 289-668-7018 to make your reservation today to fill your home with holiday cheer!