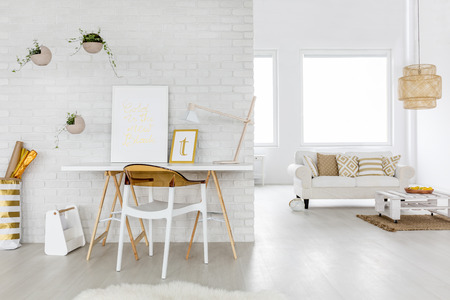 New year, new trends!
Styles come and go so fleetingly, that's why it's essential that you stay up-to-date on what's working and what styles need to be kicked to the curb.
Let's see what trends will be sticking around in 2019 and which trends we can bid adieu!
Say hello to…
New florals will bloom
Over the years, interior design has been riddled with floral patterns. Things won't be much different in 2019, with traditional floral patterns taking reign with furniture, wallpapers and various accessories.
Bolder… everything!
This year prepare to see boldly patterned backsplashes packing a new punch in the kitchen. Not to mention, bold colours will be taking over the walls.
Sherwin Williams' colour of the year is Cavern Clay SW 7701, a shade that will give any room that bold look you're vying for. This colour could work perfectly as a feature wall if your rooms are already painted grey!

Matte black
Indulging more in the brave and bold designs, we're going to see matte black everywhere.
This striking colour adds drama to any room, providing the perfect foundation for a high-contrast design anywhere around the house.
We'd dive into this trend if we were you; it's said to stick around for a while!
Sustainable pieces
This year, homes are opening their doors to handcrafted pieces made of materials from the earth like clay and rice paper.

It brings that much-needed sense of grounding that people search for in their homes and allows them to feel in touch with the environment.
Boho chic styles
Overwhelming boho is a no-go in 2019. However, a modern boho vibe is all the rage.
With vibrant patterns, layered throughout your design, you'll successfully create the room of your gypsy dreams. Modern boho brings a laid-back feel but with cleaner, softer lines.
Say goodbye to…
Fiber art & succulents
Another trend that may have overstayed its welcome, are the boho accessories. Fiber art like macramé and plastic succulents strewn about the room need to be left in the past. If you are connected to the style, then downplay these décor items by surrounding them with modern styles.
Rose gold
After years of rose gold everything, it looks like 2019 is kicking this trend to the curb.
There's only so much rose gold a room can take and since it is such a specific look, it seems as though the fad has finally come to an end.
Gallery walls
2018 can keep the clutter; we're moving forward to a simpler lifestyle. This means filling up our walls with an unending gallery is no longer a wanted feature in the home. Instead, think about having one larger piece that can act as the focal point in the room.
Dark wood in the kitchen
Dark, cherry woods are no longer the people's choice for kitchen cabinetry. Instead, homeowners are opting for painted cabinets or open shelving.
Greys on greys
Grey is a staple in interior design, but all grey everything? We're not buying it anymore.
Small accents of grey are perfectly fine, but warm up your rooms with those bold colours that we mentioned earlier!
However, if you are planning to paint this year, we suggest going with the subtler colour of the year from Benjamin Moore: Metropolitan AF-690, a sleek grey that bolsters a more modern design.
Are you ready to get some of these trends into your home? Call on the professionals at Elegant Living Decorating! We'll put these trends to work for you, designing a space that belongs in 2019. Give us a call at 289-668-7018 today to learn more about our interior décor packages for the entire Niagara region!